I've been lucky enough to get my clammy, beauty-obsessed mitts on the Tropic Perfect Brow Collection to review and I can tell you that I was more than a little excited.  As a redhead/ginger, getting brow powders and pencils that look natural can be a real trial. More often than not, I'm left looking like I have 'Scouse Brows', which is not a look that I am aspiring to really!  When my parcel arrived with my Tropic Perfect Brow Collection inside, it was love at first sight, but would it perform as beautifully as it looks?  Read on to find out what's inside the pretty box, and are the product reviews any good….
Tropic Perfect Brow Collection Review
First impressions are that this box is pure luxury! A world away from the packaging on the Tropic Cleanser, Toner & Moisturiser, that I have reviewed previously.  This feels and looks really expensive, especially when you open up the box and look at the products inside.
With all the gloss detailing on the satin finishes, I didn't want to open any of the packaging as it just looks so high end that I didn't want to damage it!  It's hard to believe that this is on offer at £27 at the moment! (Normally £37).
Inside the box you will find a stunning bamboo brush, your Brow Define palette, and your wallet of Tropic Eyebrow Stencils.
The bamboo double ended brush really is a beauty!  With a larger fluffy end for blending and shading, and a sharp, chisel end for detailing and shaping, this really does offer everything.  In fact, I've already tried it with my regular eyeshadows and it is brilliant.
There are 3 shades of Brow Define palette to chose from according to your colouring and once you select your shade online, you will receive your custom Tropic Perfect Brow Collection.  After having a look on the Tropic website, I chose Taupe as this is created for redheads and blondes.  In the past I've used the HD Brows palette in Foxy and whilst I adored the colours and brush, the packaging was cheap and broke quite early on after buying it. I was hugely disappointed, although it's worth mentioning that I did have the old style packaging and the new Foxy Palette looks very different.  The Tropic Brow Define palette contains a fill powder and a highlighter cream.
Finally we have the little wallet with the 4 brow stencils in.  These come in the styles/shapes Sleek Brows, Elegant Brows, Natural Brows & Modern Brows.  I knew from looking at them that Natural Brows was the best for me based on my existing brow shape.  These are actually the most usable brow stencils I've come across to date.  In the past when I have had brow stencils come with a brow palette, they have been totally ridiculous and consequently have been deposited swiftly into the bin!
Tropic Perfect Brow Collection Application
I thought the best way to demonstrate if the Tropic Perfect Brow Collection was any good, was to leave my brows until they were desperate for a tint and shape!  I also decided to do one eyebrow with a stencil, and one without, as I don't normally use stencils myself but I can appreciate the benefit of them for others.
Tropic Brow Stencil Set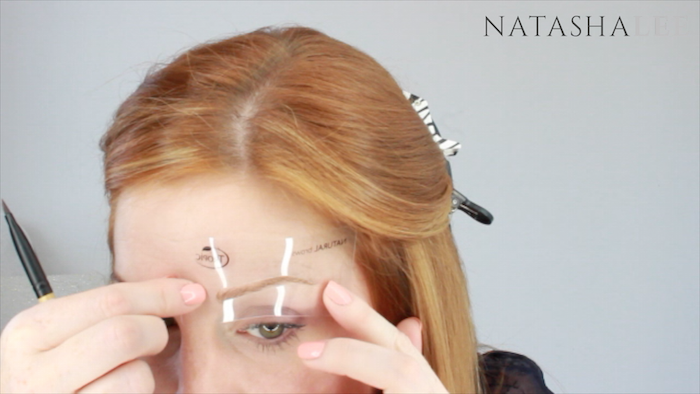 First I brushed all my eyebrow hairs in the same direction to refine the shape, using a disposable mascara wand. Then select the Tropic Brow Stencil that you prefer.  Apply it to your brow so that the brow hairs are accessible through the aperture.  Hold the stencil in place with your first and second finger, forming a V shape that you can peek through to see what you are doing!
Using the large fluffy end of your brush, apply the Tropic Brow Define powder using a backwards and forwards sweeping motion starting at the outside end and working towards your nose.  This powder has great depth and coverage so start off gently, less is more!  Define the shape of the brow using the thin chiseled end of the brush and a little powder.
Voila! Finished stencilled brows.  I'm actually really impressed.  I would normally have my eyebrow extend further on the outside edge, but you can do this yourself with the fine chisel end of the brush once you've removed the stencil.
The Perfect Brow Shape
Brows really can totally make or break not only your finished makeup look, but also the whole appearance of your face.  For the perfect brows for your face shape, there's a simple and easy technique.
Using a brow pencil or brush, line it up from the side of your nose, up to the inside of your eye.  Where ever the tip reaches on your brow line, that's where your brow should start.
Now turn the brush, so that is touching the side of your nose, but this time pivot it to the outside of your eye. Where ever the tip reaches on your brow this should be where your brow ends.
Finally, perfecting your brow arch is a little more flexible.  Ideally, looking ahead (this is a bit tricky so you might want to ask a friend to help) take your brush or pencil.  Line the brush up vertically with the outside edge of the iris (coloured bit) of your eye.  Where this touches your brow is where ideally your arch should be, but this is open to a little flexibility. 🙂
I started with the chisel end of my brush and at the outside of my brow.  Use the precision edge of the brush to create a nice clean shape and line on the top and underside of your brow.  If you have any areas that are sparse with hairs then the Brow Define powder will fill them in.  Gently fill the brow area in between.  When you reach the inside edge of your brow, apply the powder more sparingly for a natural but clean look.
Finish off your look with some highlighter applied under the arch of the brow to really lift and brighten your face.
Stencil vs Freehand
There wasn't a vast amount of difference between my stencilled brow and the one I applied freehand.  The only noticeable difference was that my stencilled brow had less of an arch and would benefit from having the outer edge extended, but that was it!  I'd been a little heavy handed with the powder on my stencilled brow, but that was just a case that I wasn't expecting the Tropic Perfect Brow Collection powder to have such a good coverage.
Tropic Perfect Brow Collection Score
I was incredibly impressed by this little set.  It looks beautiful and performs fantastically.  The only issues that I came across with the Brow Define powder, were because I had been too heavy handed with the application.  The applicator brush is a dream to use, and considering I was a bit of a hater of eyebrow stencils, I have been converted.  I think there's definitely a stencil for everyone, providing they are looking for sexy, natural brows and not wanting to look like an extra out of Stephen King's "It"!  It's been a while since I've had a HD Brows foxy palette, and I wish I still had one so that I could have done a direct comparison, as the Tropic Perfect Brow Collection really is a great buy and a dream to use.  The only slight negative, was that sometimes the colour looked different in certain lights, but again I think this was down to me applying too much on my first go and that my brows were in desperate need of a shape!  It's such a lovely product that I'm going to continue using it and it just looks so pretty in my make up collection!
Score 9⁄10 Highly Recommended