There's a saying that when you book your nails or lashes in for the first time, then make sure that you have enough money to be able to afford it for the rest of your life as you will not be able to give it up!  I can confirm that is 100% true, but only if you find the best lash extensions tech or nail technician.  But how can you find the best lash extensions tech?  Unfortunately, it's not as easy as it seems, and I fell foul of this before I found my lash angel!
As with any treatment, beauty or medical, you need to do your research.  Social media, especially Facebook, is overflowing with posts showing the damage inflicted on people by poor therapists and treatments.  However, there are some steps you can take to protect yourself. It's just a bit hard with lashes rather than nails, mainly because you don't get to watch the process happening as your eyes are closed throughout the service!  So if you're not happy with anything being carried out, then you don't find out until the end of the appointment.  By then it's a bit too late, as I initially discovered!
Are Lash Extensions High Maintenance?
I'd never really considered getting "permanent" lash extensions/false lashes until earlier this year.  It seemed a little frivolous and high maintenance in honesty.  However last year I attended Tony Robbins' UPW (Unleash the Power Within) in London and it was unbelievable but I'll talk more about that in a future blog post.  I made some amazing friends and this year instead of just attending, I decided to Crew the event to gain even more from the experience.  The days are very long – up to 18 hours, and only 3.5 hours sleep a night is the norm so I knew I needed to do what I could to keep myself looking presentable with minimum effort.
Being ginger, my lashes are naturally blonde.  They are also poker straight so even when I tint them, unless I repeatedly curl them – despite them being quite long – they are basically invisible so normally I resort to strip lashes for events!!
I loved the thought that with my lashes done and my brows tinted, a slick of lip balm was all I needed in the morning to look presentable, so it would reduce the time demands on my already jam packed days!  I knew that I would need appointments every 2-3 weeks, but it seemed like a good pay off for the reduced stress.  I'm all for anything that can help me look and feel better with minimal effort!
How to find the Best Eyelash Extensions Tech!
Knowing that you should always work on word of mouth and recommendations, I reached out on a large local community facebook group for recommendations for the best lash extensions tech.  A few names kept appearing over and over again, which is always a good sign!  I took a note of the names and began doing my research.  I looked at each of the lash extension techs, checked out if they had any qualifications, their customer feedback, and most crucially, their posts and images of their work.
Now here is where I feel I made a bit of a mistake.  I looked at the images, and selected what appeared to be the 2 best lash extensions techs.  Their work looked fantastic for both, lovely lash sets apparently perfectly applied, I couldn't see the adhesive, the lashes on closed eyes looked well applied (take note here!) so I selected and booked with one of them.
Warning Signs!
This is where I made my first mistake, and I REALLY do know better!  I booked with the tech via their facebook page and found them a little abrupt on messages.  Take heed of how your initial encounters go with your professionals, and go with your gut, not your desperation for the appointment.  I should have listened to my gut here.  Second red flag was that I had to question about pre-appointment advice as opposed to being told to come without makeup etc.  Third warning was that she never carried out any client consultation with me.  My address details etc were not taken, no questions of if I had any allergies,  medical issues etc.  All of which insurance companies say that we must obtain from our clients for their cover!
At the beginning of the appointment I'd shown the lash tech images of lashes that I really liked off the internet.  I'd made it very clear that I wanted a very natural look, more of a 1-on-1 look as opposed to russian fan lashes.  The sort of lashes where you had to look a couple of times to decide if they lash extensions or natural.  I repeated this more that once and felt relatively happy that I would get a look that I was after.  During the appointment the tech complained AT me numerous times about my difficult "straight" lashes and how much of a problem they were causing her.  Well I'm very sorry but it's not something I can help!
Daisy the Cow!
When the appointment was over, I was handed a mirror and I was mortified.  I had the heaviest, blackest, "Daisy the Cow" lashes!  Now I have nothing against heavy russian lashes, if that's what you've asked for, but it's not what I wanted.  My eyelids felt weirdly heavy and itchy, so much so that my eyes were more closed than normal and made me look like I was drunk or half asleep!  I just hated them, they were not what I'd asked for, not what we'd agreed on, and I felt embarrassed going out.  Stupidly, I didn't voice my opinions about the lashes in the salon, as to be honest the lash extension tech scared me a bit!
Even more worryingly, I wasn't given any aftercare advice and had to ask how to look after them, I paid and left, only to FaceTime my friend in the car about how much I hated them. To make matters worse, each the fan lashes had been stuck multiple of my natural lashes, which is a big no no!
Over the course of the day I realised I needed something done with the lashes.  Talking with my friend she suggested a tech we both knew who I originally hadn't gone to as she was in Liverpool and it was a bit far to travel.  However, I soon realised that to get what I wanted, I was going to need to travel to the best last extensions tech.  That tech, was Natalia Moore from Bello Amor in Liverpool.
Best Lash Extensions!
I'd messaged Natalia through my facebook as we were facebook friends.  She was amazing!  I'd told her everything that had gone wrong, what I'd wanted and what I'd got and how I had an important public speaking event coming up.  She was my angel, and booked a time for me to come to the salon (when it was supposed to be closed!) to sort me out with a fresh set of perfect lashes.   I was so happy – simple things I know!
How to Remove Lash Extensions
Now I had the challenge of trying to remove my existing lashes.  I'd messaged the initial Lash Tech but found her too abrupt that I didn't trust her to safely remove my lash extensions.  They were already starting to hurt as each lash fan had been stuck onto multiple of my own lashes, which is a big no no!  I did use professional lash extension remover, but I had an absolute nightmare and ended up with very sore eyes and was left with only about a quarter of my original eyelashes.  I'd even tried all the other recommendations including baby oil etc but the lashes just wouldn't come off!  By the time I had my appointment with Natalia, I was scared she wouldn't be able to do anything for me as my lashes were practically bald!
Best Eyelash Extensions
Before I went to see Natalia, I was prepared to forget about ever having eyelash extensions.  However, she worked an absolute miracle and I couldn't believe it! I loved my lashes so much that on the next appointment I had the confidence to increase the volume of the lashes and change from a D Curl to a C curl to get the look I was really after.  After 3 appointments I don't feel I could ever go back to having just natural tinted lashes!  There's some aftercare to bear in mind about how to take care of eyelash extensions / permanent lashes, but it's minimal and totally worth it!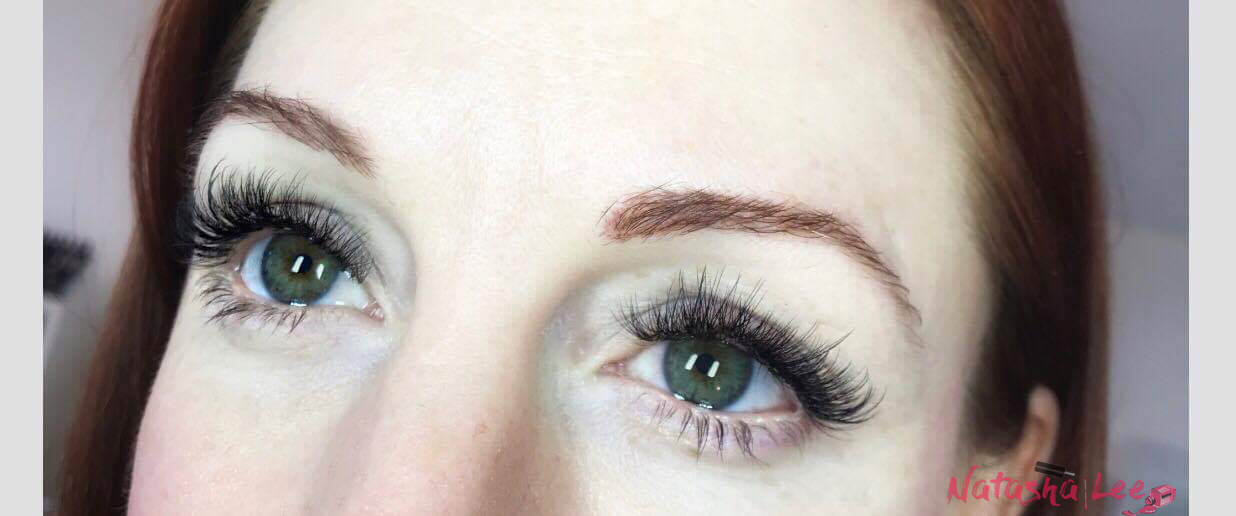 How To Find The Best Eyelash Technician
If you want the best lash extensions then I can highly recommend Natalia Moore at Bello Amor in Liverpool.  If that's a little too far for you to go then there's a number of things to look out for when searching for the best eyelash technician
Check out their qualifications and professional insurance, any decent technician will be more than happy to provide this without any hesitation.
Look out for images of their work and feedback of clients
Send them a picture in advance of the sort of lashes you want, ask them if they can do them and ask for pictures of their own work of similar lashes.
Ask what products and adhesive that they use and check out online that they are professional products.
If you've done all of the above and book in, see how you feel after your first set of lashes.  It can take a couple of appointments to perfect the look you're after, but after your first appointment you will know if it's a good technician and how the lashes feel.  It should never been painful getting lashes done, and you shouldn't suffer any discomfort from them after having them done.  If you do it may be due a reaction to the products or that the tech has applied individual lashes to more that one of your natural lashes which can cause tenderness as they grow out. Also you shouldn't be able to feel a good set of lashes, my first set from the original technician felt heavy and disturbed my vision slightly, the sets from Natalia I can't even feel are on!
How To Care For Individual Lash Extensions / Russian Lashes Aftercare
There's just a couple of important things to take note of to get the most out of your lashes.  One really important thing I need to mention is that you need to clean your lashes daily with a dedicated cleanser (UK / US) and brush.  If you don't have a dedicated cleanser then baby shampoo and a foam pump dispenser (UK / US) will do the job!  You can buy specific lash cleaning brushes ( UK / US) but I actually prefer my old firm eye makeup brush  This will make your lashes last longer as the natural oils and dirt that builds up around the lashes causes them to come off prematurely.
For the first 24 hours after your treatment it's important that you don't allow water to come in to contact with your lashes
For 2 days afterwards do not steam your face, use a sauna, a steam bath or swim.
Use your recommended lash cleanser and brush to clean your lashes every day, at the VERY least every other day.  This will remove any dirt and natural oils which can cause your lashes to come off sooner.
Do not use oil based cleansers or makeup removers near your lashes.
Ideally don't wear mascara, but if you do only apply lightly to the tips of the lashes to enhance the look, not the base, and don't use waterproof mascara
Don't rub your eyes when washing your face – always pat the lashes dry after cleansing and do this with a smooth cloth not a towel which can catch and pull the lashes.  I find a clean tissue perfect!
Brush your lashes daily to keep them in position.  I do mine at least in the morning and last thing at night.  I've tried every type of lash brush with my lash extensions, including silicone, but my absolute favourite  for separating perfectly without pulling on your individual lashes are these ones, which I think are the best lash brushes EVER.  The bristles are all the same length as opposed to tapered, and the overall length of the brush shaft is shorter with longer bristles.  They just seem to work in a way that other disposable lash wands don't!
Book your infills every 2-3 weeks depending on how your lashes last and how quickly your natural lashes grow and their hair cycle.  I go 3 weekly for mine.
How To Wash & Clean Individual Eyelash Extensions / Russian Lashes
Step 1. Gently massage your lash cleanser into the lashes in small circular motions using your cleansing brush.
Step 2. Pat the lashes dry using a tissue or smooth cotton cloth (I use a clan square of toilet tissue per eye)
Step 3. Softly brush through using a clean mascara wand or lash brush.
Here's a brief video from the Amor Lash Pro Facebook Page showing you how quick and easy it is to clean and take care of your lashes!
Best Individual & Russian Lash Training
If you are wanting to learn how to apply Individual or Russian Lashes / Extensions, then Natalia also is a lash educator and has her own amazing brand of lashes Amor Lash Professional!  Check out her courses to find out more