So a couple of years ago I produced a video on water marbling that I thought might be quite a popular tutorial.  I had no idea that 2 years on it would be so popular that it would have over 3 million views and have been shared all over the world!  However, back when this was originally filmed it wasn't the best quality.  I was new to water marbling and back in the day I used to film my videos with my iPhone on a foldaway table (which shakes throughout filming!) and edit on my iPad!  Times have moved on a bit, and during this time I've read all the comments on You Tube and taken them on board.  The result is this fantastic tutorial using the Models Own Colour Chrome Collection showing you how to produce easy and perfect water marble nail art.  I hope you enjoy it and tag me on twitter and Instagram #NatashaLeeBlogger to show me your versions 🙂
Chrome Water Marble Nail Art
I have tried and tested this method repeatedly and it works perfectly each and every time.  The Models Own Colour Chrome Collection are the best polishes that I have ever used for water marbling as they spread perfectly and don't dry too quickly.
What You Need
Water Marble Nail Art – How?
After filing your nails into your preferred shape and doing to your cuticle work, apply basecoat to all 10 nails and allow to dry.
Next apply 2 layers of a silver holographic polish, my favourite is ColorClub Harp On It.  Allow the first coat to dry before applying the second.
Once your polish is dry, generously apply a Peel Off Basecoat on the skin around the nails and allow to dry.  It will turn clear once it's dry.  You might find it easier to do one hand at a time.
Then simply remove your fingers from the bowl.  Take your clean fine dotting tool, and just run it carefully around the cuticle area and side walls to separate the polish on the nail from the polish on the skin.
If your nails and skin are still very damp, lightly blow dry with a hairdryer set on a low heat and low speed.  This is to ensure that you can easily peel off the excess polish on the skin.
With a pair of tweezers, carefully remove the excess design from the skin.  If you have applied your peel off basecoat generously, this should be very easy.
If there is any polish remaining on the skin and around the nail, using a gel brush lightly dampened with acetone, carefully clean up any excess polish.  If you have a lot of polish on the skin, just use a pad dampened with acetone to clean large amounts off.
Now your design is completed, all that is left it to top coat!  I love the Seche Vite top coat as it dries really quickly, is super glossy and hardwearing.
And here is that amazing finished design.  I adore these, especially the way the holographic base colour peeks through and twinkles in the light!  You can have fun trying different combinations of colours.  Don't forget to tag me in your designs #NatashaLeeBlogger.  In the meantime, stay tuned to find a really easy way to have water marble effect toes!
NB: I thought I'd give you a little peek at my "helper" today…….Blog Cat strikes again!!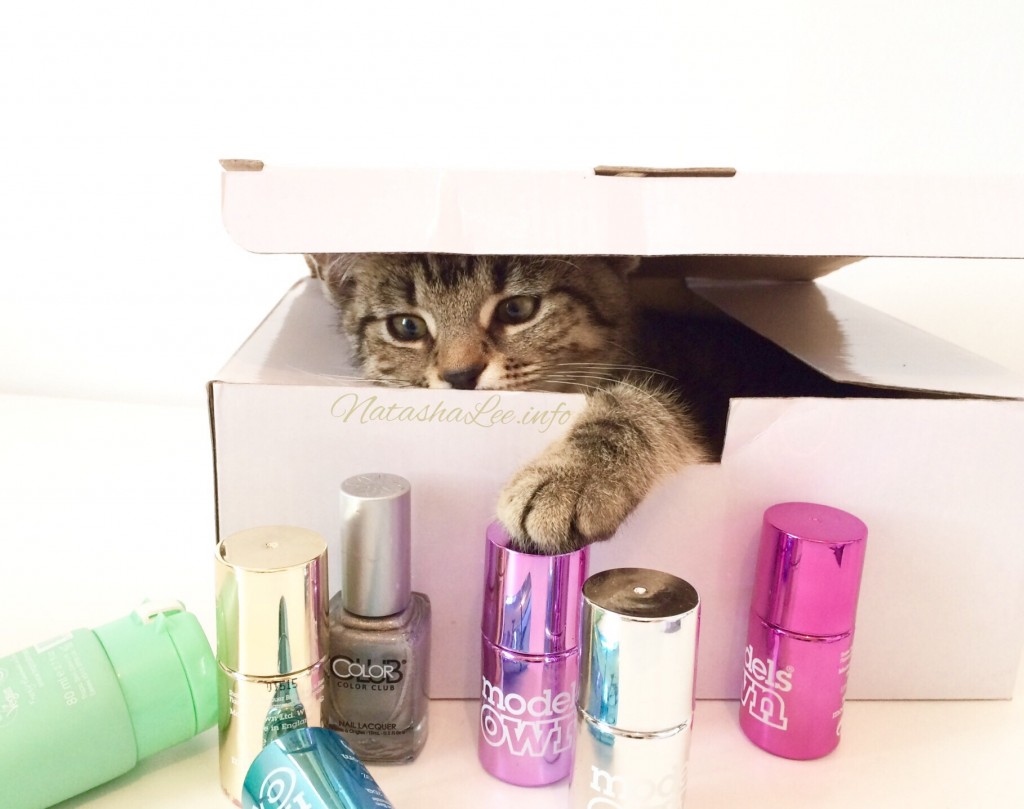 How To Water Marble Your Toes!!
I had so many comments on my previous video asking if there is an easy way to do water marbling nail art on toes, so I thought I'd show you a little hack!  Now as my toes are already super blingy at the moment, I've used my thumb to demonstrate the method for toes 😉
First you are going to need a piece of waxy/shiny paper.  I like to use the old backings from nail forms.  Apply top coat thinly to the shiny side of the paper and leave to dry.  Apply base coat and 2 layers of colour coat to your toe nails, allowing each layer to dry.
Next create your complete chrome water marble nail art design as explained in the fingers section above.
Once your polish has dried on your shiny paper, place it polish-side-down onto your design and lightly tap down so the whole of the paper covers the design.
Carefully lift the paper out of your bowl.  If the paper is very wet, gently dry it with a hairdryer set on a low heat and low speed to prevent the paper from tearing.
Then  using a dry gel brush, lightly pat the design to remove any bubbles or droplets of water.  Now apply top coat to one toe nail at a time for our water marble nail decal to stick to.  Don't paint all of your toe nails at once, otherwise the top coat will dry before you can get the decal on.
I hope you've enjoyed this blog showing you how to create stunning chrome and holographic water marble nail art.  I had so many comments about these nails when I wore them after filming the video, I think they were my most popular set of nails ever!  If you would like any extra help with your water marble nail art, then there's an easy to follow video tutorial at the top of the page to help you out 😉  Don't forget to tag me in your designs #NatashaLeeBlogger 🙂 xNx