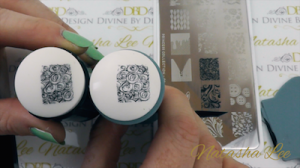 So MoYou London have sent me some goodies and bits and pieces to try out and review.  🙂  I have 2 of the standard MoYou London stamping plates and one XL stamping plate as well as their large stamper and scraper for review.  Until now I've had some other popular brands of stamping plates and stampers but had coveted how beautiful the look and designs of the MoYou plates were.  I'd spent far too long on the MoYou London website perusing the amazing designs. The issue wasn't finding 3 plates to choose, it was limiting my choice to 3 plates. The range is sensational with designs and images I have never seen before on any plate! For my review I decided to select some different sizes and styles and ended up choosing Princess Collection Nº9, Pro Collection Nº4 and Pro Collection XL Nº6.
MoYou London Stamping Plates First Impressions
When my sacred little parcel arrived I will openly confess to being more than just a little excited.  Inside the packaging were 3 stamping plates, all in their own individual beautiful, retro sleeves (usage instructions are on the reverse of the sleeves) and a large stamper and scraper.  Now these plates are unlike any of the other ones that I have – my others are small and round and often kept in mini CD style wallets.  The MoYou plates however, are large in comparison and rectangular.  The metallic plate is adhered to a firm white plastic backing that on the reverse has the MoYou London logo, and on the metal side has the plate number (the exact plate details are etched on the side of the metal plate).  Now I couldn't put my life on it as I can't find any definitive information, but I'm pretty sure that the plastic backing is acetone resistant as I used acetone and a plastic backed pad to clean after each stamp without any adverse results.  The plates have a beautiful eclectic range of designs on them and they are brilliantly thought out.  Hats off to the brains behind the designs and plates set up!
For a good and honest review, I selected 3 plates of different sizes and styles as well as the XL Double Sided Stamp and Scraper.  The plates I selected were Princess Collection Nº9, Pro Collection Nº4 and Pro Collection XL Nº6.   XL Plates are the same dimensions as the standard plates, but the stamping images are longer and wider.   For an idea of the coverage from a standard plate and an XL plate, please see my review video at the bottom of the page or look here.  I also found the postage very prompt which was an added bonus!
How To Use MoYou Stamping Plates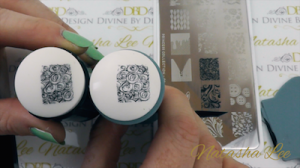 Once you have removed the plate from the pretty sleeve, and removed the blue plastic protective layer, the stamping plate is ready to go.  With regards to the stamper, I decided after testing it against my existing XL Squishee Stamper, that it doesn't necessarily need to be primed.  There is a slight improvement in the quality of the picked up image with my primed stamper, against the unprimed MoYou Stamper, but for demonstration purposes I thought I would show how well it picks up without priming.  If you want to know how to prime your nail art stamper, then Kate Dix has a great video here.  Even if you decide not to prime your stamper, I strongly recommend wiping over it with 99% Isopropyl Alcohol and a lint free plastic backed pad before first use, and after each use.
I opted to use a black Konad polish for my MoYou London Stamping Plates review to give a good crisp demonstration.   MoYou do have their own range of stamping polishes but I haven't had a change to try these yet.  You can use your MoYou stamping images over regular nail polish or over gel polish.  If you are applying over regular nail polish, just make sure that the polish is fully dry before applying the stamper to the nail.  If you are using gel polish, then after your second coat, remove the sticky layer and then stamp, finish off with top coat.  If you use a brand of gel polish which requires the sticky layer on the colour coat to adhere to the top coat, then just finish your gel polish service with top coat, remove the sticky layer from the top coat, stamp, then apply another thin layer of top coat.
Once you've chosen the image that you want to use, you will need to work quickly during the application.  Paint your stamping polish over your chosen design, and with your scraper at a 45º angle, firmly wipe the polish over and past the design on the plate.  Then take your stamper and lightly roll it over the design.  Don't apply too much pressure as this can distort the image on your stamper.  If you have any extra polish on the stamp that is not part of the design, you can easily remove this with your fingernail.
Once you have picked up your image on the stamper, line up the design against the side of your nail, and gentle roll the stamper over the nail to transfer the image.  If necessary, using a nail art brush lightly dampened with Acetone or Isopropyl Alcohol tidy up any of the stamping design that is not the skin.  Then you are ready to top coat!  It's best to be a little generous with the top coat to avoid streaking and dragging the stamping polish design.
MoYou London Stamping Plates Review
I love these plates! #truestory  Now for the pros and cons.
Pros
The plates are beautifully presented
The designs are absolutely amazing and vary between mainstream to really unusual.
There's a lot of images on each plate.
They are really well labelled on the actual plates making organisation much easier.
The large rectangular design is sturdy and easy to use.
The designs stamp beautifully crisp and are pretty much fool proof to use.
I love the stamper, but with hindsight I would have primed it before the first use but it still works pretty ok without priming.
Cons
The standard stamping plates are only really suitable for shorter/smaller nails if you are wanting a full nail coverage.  I have some length to my nails, but not much.  If you had longer/larger nails, I would strongly recommend opting for the XL plates to avoid disappointment.  The video below has a good comparison on my thumb of the different between the standard and the XL plates.
Rating  9⁄10  Highly Recommended!  
Overall, I would give the MoYou London Stamping Plates a 9⁄10.  
I don't think that anyone could possibly be disappointed when purchasing these plates, provided that they are aware that if you have long or particularly wide nails, you will probably be best ordering the XL plates.  Even then you can sometimes get around this issue with the standard plates by stamping diagonally on the nail to make the designs cover a greater length.   If the images on the standard plates were a little larger, I would have had no issue scoring the MoYou London Stamping Plates top marks and they are perfect for professionals and consumers.  xNx