ERMAHGERD!!! BLING!!  Anyone that knows me will testify to the fact that I am a sucker for anything sensationally sparkly, so when I got my hands on the latest Magpie Glitters for nail art from Magpie Beauty I was more than a little excited!  Especially as there are so many fabulous holographic glitters which are my absolute favourite.  Something great about ultra fine Magpie Glitters, is that they are available for both professionals and home users to buy.  So if you are fond of doing nail art at home, then you are able to purchase a professional, cosmetic grade, solvent resistant glitter for gorgeous nails at home. I thought I'd give you a run through of the 40 glitters currently in the range and what they look like actually on the nails.  There's a video at the base of the page for anyone who wants to see how truly sparkly these are in action 🙂
Magpie Glitters For Nail Art
There are 40 glitters currently in the range from Magpie Beauty, and the range of affects includes what I would refer to as Standard Glitters, Holographic Glitters, Iridescent Glitters and Multi Glitz glitters.   In case you aren't aware of the differences I'll give a quick run through of how I would describe them.
Magpie Glitter – Standard
There are 13 Standard glitters available from Magpie glitter for nail art.
Ruby – rich, classy red
Rosie – dusky pink with a hint of salmon
Penny – coppery burnt orange
Maria – pale baby pink
Eadie – rosebud pink
Sidonie – bold fuscia/cerise pink
Kate – bold pacific blue
Peggy – dusky dark teal with an almost matte/velveteen appearance
Margo – rich jewelled amethyst purple
Willow – jade green
Grace – sophisticated taupe/mushroom
Goldie – soft yellow gold
Sylvia – light bright silver
Magpie Glitter – Holographic
There are 12 holographic glitters available from Magpie  glitter for nail art.
Livvi – candy lavender/lilac
Erin – dusky baby pink
Violet – pastel violet
Emily – pale ice blue
Kiki – light teal
Arial – sea green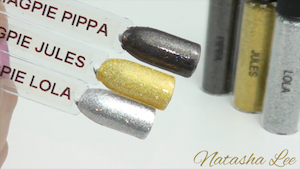 Pippa – black/brown with different sized flakes
Jules – yellow gold
Lola – pale silver
Magpie Glitter – Iridescent
There are 12 glitters in the iridescent range from Magpie Glitter for nail art.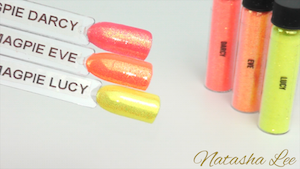 Darcy – vibrant neon coral
Eve – bright neon satsuma orange
Lucy – neon lemon yellow
Dolly – bright violet
Elsa – cool sky blue
Bell – "Tinkerbell fairy" spring green
Jess – red/orange with a coral tone
Lottie – rich salmon pink
Cindy – bright "barbie girl" pink
Pearl – a mix of tones of baby pink
Lilly – THE most amazing mother of pearl/opal effect white glitter that I have come across!
Pixie – white but shines violet in the light, see review below for more details
Magpie Glitter – Multi Glitz
There are 3 colours in the Multi Glitz range from Magpie Glitter for nail art.
Polly – A mixture of deep blues, purples, teals and pinks including holographic flakes
Patsy – A mixture of cerise, purple and blues including holographic flakes
Flo – A mixture of deep and pale dusky pinks with holographic flakes
Magpie Glitters for Nail Art Review
Overall I'm massively impressed with the ultra fine Magpie Glitters for nail art.  They apply beautifully, are a reasonable price and pleasantly, are also available to non professionals.  I love the holographic range and the neon iridescent colours have a real "WOW" factor.  I like the effect of the different sized flakes in Goldie and Pippa and would love if they brought out some more of these in the holographic range.
Of the 40 glitters, there was only 1 which I was a little disappointed by and that was Pixie.  It looks absolutely sensational in the tube as a white with a real punchy violet tone when the light hits it.  However, when applied over a pale polish like a white or a sky blue, the glitter itself takes on a yellow tone which isn't hugely noticeable, but I am rather a perfectionist so I did notice it.
With that aside I would still score these glitters incredibly highly.  Over the coming months I will be trialling and reviewing some other big names in the professional nail glitter arena and bringing the comparison and results to you.  However, in the meantime I would score the Magpie Glitters for nail art a resounding….
Rating 9.5⁄10 Highly Recommended!
If you'd like to watch the glitters in action to appreciate how sparkly they really are please see the video below.  Magpie Glitters for nail art are available to purchase from www.MagpieBeauty.co.uk (professional and consumer) and www.thecreativebeautygroup.co.uk (professional only).