So I've been an incredibly lucky lady and managed to get my hands on the Gel II Carousel Collection before it's officially available for purchase at Professional Beauty London on Sunday 22nd February 2015.   I've been so excited to see these new colours ever since the first images were leaked online.  These are absolutely bang on trend for the SS15 Colours that hit the catwalks and have filtered into the shops as the Spring approaches.
Gel II Carousel Collection
The new Gel II Carousel Collection is a gorgeous selection of 6 cream pastel shades unlike any of the others currently available.  At first I thought Bare Bear was an unusual addition to the set, but once it's alongside the others you can see perfectly why this has been added in!  I thought in the run up to the launch of the colours you might like to see some swatches and find out a bit more about the colours.
 Gel II Frou Frou Blue
I am in love, Love, LOVE with this colour!  It's an absolutely beautiful pastel cornflower blue that almost has a "Tiffany" feel to it.  It's been beautifully blended to look stunning on warm or cool skin tones and is one of those colours that will make people stop and comment!
Gel II Marvellous Melody
This to me is the epitome of a lovely feminine candy floss colour that seems to be popping up everywhere at the moment.  Super girly and simply gorgeous!
Gel II Bare Bear
Look at the catwalks for SS15 and you will see this colour popping up everywhere.  A classy and subtle pastel tan shade that makes me think of caramel lattes! If you love nudes and neutrals, you are going to need this in your collection.
Gel II Peppermint Pony
This colour is amazeballs! I've not seen anything like this in other brands and it is such a perfect fresh mint colour that you can almost taste it! I can't wait for flip flop weather to arrive as this is going to be on my toes with sparkles!!
Gel II Merry-Go Berry
What a perfect name for this colour! A lovely blue-toned creamy lilac that reminds me of parma violet sweets and looks absolutely stunning on all skin tones.  I think this could be the big colour for SS15 amongst clients of all ages.  It's timeless and so pretty.
Gel II Prancing Peach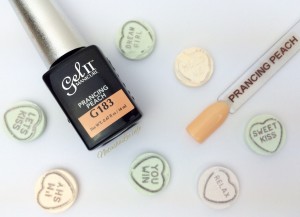 It's a perfect peach, need I say more?  The perfect peach is every nail techs' holy grail and here it is delivered to you in the Gel II Carousel Collection!  Peach polishes can sometimes be a bit temperamental for getting an even coverage, but Prancing Peach is absolutely perfect in 2 coats and I think this is going to be a mahoosive hit with wedding season just around the corner. 😉
Gel II Carousel Collection Review
It's quite clear from my previous Gel II reviews that I have quite simply fallen in love with this product, and more importantly, so have ALL of my clients.  However, I wanted to see if this collection could live up to my expectations and thankfully they surpassed them!  All 6 colours are pastel creams, in other words there are no shimmer or glitter hues in the polish.  The colours all apply evenly and perfectly in 2 coats and unusually for a colour collection of any brand, I would happily wear any of the 6.  As a ginger, I have to be careful about what colours I normally wear as they can wash out my complexion, but I'm in love with all of the Gel II Carousel Collection! 😉
I can't help but give the collection full marks and my only negative is I couldn't decide which colour to wear first, so I decided to wear all of them!! I've included a video tutorial for you below if you want to recreate this look for yourself.  These colours are released by Gel II UK at Pro Beauty ExCel in London on Sunday 22nd February 2015, and available online on Tuesday 24th February 2015.  If any of you are in the North West, why not join me at The Creative Beauty Group North West open day between 8:30am and 3:30pm on Tuesday 24th February 2015. xNx