Following on from my "First Impressions" blog post about Gel II, I was inundated with enquiries about how was it wearing on me and how easy is Gel 2 Removal?  I had to remove my first application of Gel II prematurely after only 4 days due to a change in business commitments so I didn't get a chance to properly film removal.  I can however confirm at the time of removal on day 4 it was still perfect.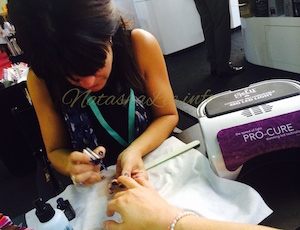 I had some Gel II applied on my nails at Olympia Beauty on Sunday 21st September, and I want to see how it lasts on me (currently 5 days and still looking perfect).  To avoid me  having to remove my own Gel 2,  I have enlisted the help of my lovely client Sophie Edwards to be my model for the video.  I hope this answers a lot of your questions.  As with any product, it takes time to get familiar with its techniques for optimum performance and removal, so please bear in mind that this is only the second time I have removed it properly, but I hope it will demonstrate how to easily and gently remove it.  There is an easy to follow video tutorial at the base of the page.
Gel 2 Removal (Gel II)
To remove Gel 2, you first need to gently buff off the acetone resistant top coat with a 180/240 grit file.  I find that if you use a white file, it makes it easier to see when colour appears on the file so you know when you have removed the top coat properly.  However after a couple of times of buffing, you will get used to doing it quickly without having to check your file for colour residue.
Once you have removed all of your top coat, it is time to wrap the nails.  Lightly soak a cotton pad with acetone and place on the nail, then wrap the nail tightly with a foil wrap to prevent the acetone evaporating.  If it's a cold environment that you are working in, then you can add a heated wheat bag over the wrapped nails to aid removal. When you wrap the first nail, set a timer for 10 minutes and remember after 10 minutes to start removal on the first nail that you wrapped.
 Once 10 minutes has elapsed, remove the foil wraps one at a time.  With an orange wood stick gently remove the softened Gel 2 by pushing it lightly off the nail.  There is no need to scrape forcefully remove the product.  Treat it like soft butter.
Then with a plastic backed pad dampened with Acetone, firmly rub the Gel II residue off the nail.  If there are any small areas of Gel 2 left on the nail after rubbing with the plastic backed pad, then just lightly remove with the orange wood stick as it should have softened sufficiently after rubbing with the acetone-soaked pad.  Then just rub over the nail again for a clean finish.
Repeat this step on all nails, and once finished, either carry out a manicure and reapply Gel II, or apply cuticle oil and massage in. Voila!!  Gel 2 easily and gently removed.  I will say that for those used to removing a non-acetone resistant polish like CND Shellac, it seems a bit scary buffing the top coat off, but it really isn't.  Initially I too had reservations, but then once I started to find my mojo with removal after the first attempt, I realised that it's easy and gentle with no damage to the nails, it's just different to Shellac, but not worse for removal.
I hope that you have found this blog and vlog useful and informative.  If you have any extra queries, please ask in the comments section at the bottom of the page or contact me though the sidebar. xNx