Best Salon Chester – CACI Facial Review:
Okay I'm going to have to face facts (no pun intended!) that at 37 years of age, 3 kids, long working hours and the countless nights of less than 6 hours sleep, I am starting to really look my age.  Despite now working out 5 times a week, eating cleanly & nutriciously and drinking plenty of water, my skin is starting to sag on my face.  Gravity is taking it's toll and it was starting to make me feel anxious.
Everyone wants to look and feel good, but when you are an ageing blogger and vlogger in the beauty world, it feels like an essential prerequisite! I had a number of awards and events coming up in July & August, and despite upping the ante on my skincare regime to include Azelaic Acids, AHA's, vitamin C and every type of clay known to mankind, my brows weren't lifting, and my newly-arrived jowls were tormenting me every time I caught a glimpse in the mirror!
For the first time ever, I was actually starting to consider the potential of surgery.  Not that there's anything wrong with it if that's what you chose to do, but for me, it's something that scares me.  A good friend in the NHS told me that "There's no such thing as routine surgery" and I've seen this first hand with friends pass from what are deemed as complications of "minor/everyday" surgeries.  Also, I think that it really does change the look of someone.  They don't look like the younger version of themselves (which is what we normally aim for), they look like a more youthful different version of themselves, and besides, as the skin loses elasticity more surgery is needed to keep tightening and so goes round the never ending circle!  This same friend in the NHS is a big fan of CACI facials and I can always tell when she's had one, and likewise, when she hasn't had one for a while……
I decided to do my own research and liked what I was seeing about CACI facials.  Instead of just focussing on the skin and it's various layers like many facials, CACI really targets the muscles that hold the structure of your face. That's what I needed!!  My PT Jack Sullivan is helping me work out the muscles in my body but I needed to work out the muscles in my face!  I headed to the CACI website to find local authorised CACI salons near me, and as I browsed the list of names one jumped out at me, The Scented Garden Retreat – Chester.  I immediately recognised the salon as being one that one of the "school mums" owns, so where better place to start?  I spoke to Laura (the owner) and ideally to begin with it's best to start with a course of 10 treatments in close succession, followed by roughly monthly maintenance treatments to maintain the effect.  As I'd left it a bit late for my first big event, we'd only be able to fit in 7 treatments, but that would be enough to notice a real anti ageing difference, and blimey was there a difference!
What Is CACI?
If you haven't heard of CACI before, it's a company that offers full body, non surgical treatments, designed to target lines & wrinkles, eye bags, acne, cellulite, skin tone, stretch marks, problem neck appearance, body tone and ageing hands.  This non evasive system uses Microcurrent to target the muscles and imitate the body's own natural bioelectrical field.  With the facial that I received – their most popular "CACI Non Surgical Facial", this microcurrent is applied by placing different style devices against the skin through which a current is felt.  It's not painful, it's actually very relaxing,  and all that I noticed is that when working on the area around the mouth it can leave a mild metallic taste in the mouth which leaves as soon as the devices move to another area of your face.
How Do CACI Facials Work?
For me, my therapist Laura Heywood from The Scented Garden Retreat in Chester, carried out an initial consultation to fact-find my problem areas or concerns.  Once fully informed, Laura was able to tailor each treatment directly to the areas of most concern, although the treatment does work on the whole face and jaw.  For me, I requested my brows and the area between my eyebrows where I have frown lines, my lips and my jowls/jawline.
You can see through the treatments how my skin was getting firmer, more glowing and more youthful with a decrease in lines, puffiness and sagging. 
On my penultimate/6th treatment, Laura included a CACI Ultrasonic Peel.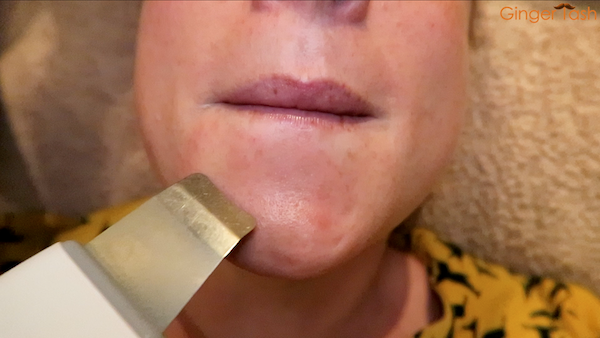 During the peel you can actually HEAR it working and can see in my vlog above!  My complexion was a little more red for a few hours afterwards, but not enough that I felt too self conscious to do a bit of shopping.  It's far gentler and less aggressive than traditional microdermabrasion methods, which I have previously had a bad experience with!   Ultrasonic peeling involves using a hand piece that vibrates at 27,000 vibrations per second on the skin.  These vibrations push skin impurities to the surface and dislodge dead skin cells, which mean that the vibrating hand piece can then be used to deep clean and exfoliate the layers of your skin.
On my final treatment, Laura included a special CACI Lip Treatment which uses their award winning Amino Lift Peptide Complex with the wrinkle comb and red LED light therapy.  I'm not going to lie, this freaked me out at first, hence the laughter above.  Once you realise there's no moving parts to the comb, then it's fine! However, the end result was AMAZING and my lips looked like they'd had fillers but more natural.  In fact, my lips just looked like they did in my teens, but better!
I couldn't believe the difference in my face from the first to the 7th treatment (the picture above is from my 6th treatment, no filters, editing or alterations bar colour grading).  My cheeks and brows had significantly lifted.  The constant frown lines between my eyes and forehead lines were almost completely gone! My cheeks had risen back to where they were when I was younger, giving me a defined cheek bone and reduces the look of a saggy puffy face and my jowls were basically non-existent. My skin and face felt increasingly firmer after each treatment, and now I'm onto monthly maintenance (I've just had my first last week) the results are still lasting.
Just to be clear here, I don't stand to gain anything from promoting this treatment.  I decided to look for a salon locally that offered it after seeing the results in my friend who has it done regularly, and I first approached Laura from The Scented Garden Retreat salon in Chester.  What I can say though, is that I was so blown away at the end of my course of 7 treatments (10-15 recommended normally) that I couldn't bear to not keep looking like that!  Consequently, I'm now booked in monthly for top up appointments and have become a regular client.  I think it's worth every penny and now I've discovered just how effective the treatment is, I don't think there will ever be a need for me to actually consider surgery in the future! Win win!
If you are going to consider this treatment then I recommend going to the CACI website here to find an authorised and trained provider in your area.   If you are within travelling distance of Chester, then I highly recommend The Scented Garden Retreat where I booked my treatments.  Laura's CACI skills are exceptional, the salon is high end and stunning, intimate and welcoming, and in my personal opinion the best salon in Chester, and that comes from me previously owning my own salon ranked as one of the best in Chester!  Thank you Laura and everyone at the Scented Garden Retreat, this is one exceptionally happy (and younger looking!) customer. xx