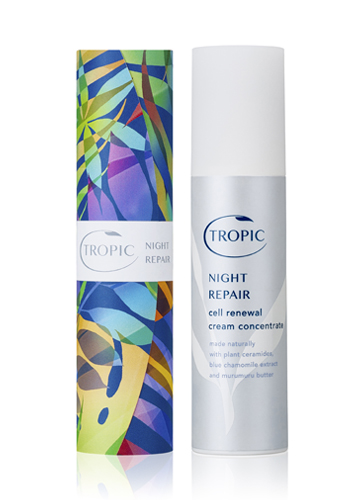 I have been searching for some time for the best anti ageing cream and recently I was sent the Tropic Night Repair Cell Renewal Cream Concentrate to review.  I did have pretty high hopes for it as I'm a big fan of a number of the Tropic products after trialling and reviewing them and many of them have now replaced my previous favourite products from other brands.
The instructions on how to use are quite simple, after cleansing and toning, simply apply 2-3 pumps onto your face and neck in an upward circular motion and allow to sink in.  Although in actual fact, I think that just 2 pumps are more than sufficient to cover your face and neck but by all means, feel free to knock yourself out and use 3 to extend the amazing properties to your décolletage! 😉
Best Anti Ageing Cream?
Score 10⁄10 MUST HAVE!!
My best anti ageing cream!
This is the first time since I began my Nail, Beauty & Lifestyle blog that I have ever scored a product as full marks, but it really does deserve it!  If you are looking to try the best anti ageing cream for your face and eyes, then you need to get your paws on the Tropic Cell Renewal Night Cream!  Even my husband has got in on the action!
Just to put your mind at rest, I have no affiliation with Tropic other than as a beauty blogger being sent press samples to trial (there aren't even any affiliate links on this post!), so I can say honestly that they really are THE brand to watch right now.  This is the direction that all brands should be going in: Vegan Friendly, Not Tested On Animals and all naturally derived ingredients that fulfil everything that they promise to.  Never before have I had such clear, radiant skin, to the extent that I have been asked for ID numerous times in the past 6 months (YESSSSSSS!!!!!!! Get in! Thank you to Phil in the Shell garage on the A55 East for making my day!).
*Press Sample