Considering for years that I didn't even own a lipstick as I only wore lip gloss, the tables have firmly turned and these days I'm rarely seen without a slick of lippy on!  I still love lipgloss, but I love the lasting power of a decent lipstick and I recently got my hands on some Avon Ultra Colour Lipsticks, but in honesty, I wasn't getting too excited.  According to Forbes, Avon are No2 in the top 10 global beauty brands, but for me, I still had images of my mum as an Avon lady in the 80s, with tiny lipstick samples that smelt funny and blue eyeshadows!  I still saw the brand as affordable, but not high end.  Would Avon be able to change my mind during my Avon Ultra Colour Lipstick review?
Avon Ultra Colour Lipstick Review & Swatches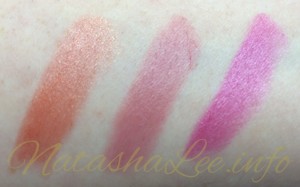 I am painfully staid at times in the colours that I like.  I vary my makeup according to the weather, hair colour, outfit, occasion etc, but I rarely go really wild with my colours.  I thought I'd get my hands on 3 colours – Toasted Rose, Dream Fuchsia & Enduring Sable.  Dream Fuchsia & Enduring Sable were outside the normal range of colours that I would wear but I thought it would be beneficial to see to see how good the coverage was on the bolder and shimmer colours.  I naturally have auburn hair and slightly freckly skin, and my usual skin tone is a warm/neutral but rather pale!
"Toasted Rose" Avon Ultra Colour Lipstick
This by far was my favourite colour of the 3,  and in actual fact I now wear it a few times a week.  It's a beautiful creamy matte consistency and is a gorgeous dusky rose colour.  Being a matte I expected it to be rather drying but I was pleasantly surprised at how well it lasted without drying.
"Dream Fuchsia" Avon Ultra Colour Lipstick
I was really quite surprised at how much I liked this colour and how often I actually wear it.   It is a true fuchsia with a slight shimmer to it and has a beautiful coverage.  The consistency is perfect, and despite it being a bold colour, it doesn't bleed or smudge easily.
"Enduring Sable" Avon Ultra Colour Lipstick
Enduring Sable is one of those colours that doesn't look that special when in the actual lipstick, but is surprisingly nice on.  It's a bronzed coral and can by quite strong so I think it's best to tone it down with a nude lip liner but is a perfect summer/autumn colour due to the lovely metallic tones.
Avon Ultra Colour Lipstick Review
Pros
Lovely colour range with a variety of matte, shimmer and satin finishes.
Wonderfully creamy consistency and non-drying.
Fantastically priced.
Nice packaging except the clear "sunroof" on the lids.
No frangrance/scent.
Great pigment/depth of colour.
Cons
The lids have a little clear window or "sunroof" which cheapens the look of otherwise nice packaging.
Rating  8⁄10  Highly Recommended!  
I really wasn't expecting a great deal from these lipsticks to be honest, but I was incredibly pleasantly surprised!  The Avon Ultra Colour Lipstick is a real gem of a product.  I applied in the morning before work in my salon Divine By Design, worked all day, drank numerous cups of tea, chatted to clients none stop, and when I finally checked my makeup at the end of the day, about 50% of the lipstick was still on, but it had worn off evenly so my makeup still looked neat and well presented.  I think if I had had a chance to touch it up halfway through the day, it would have looked almost perfect at the end of the day.  The consistency is beautifully creamy, without being too dry or too slimy, and the depth of colour is just perfect.  I'm now looking to to expand my range of lipsticks using the Avon Ultra Colour, and hopefully I might finally find my perfect red.  The best thing about the Avon Ultra Colour Lipsticks, is the price point and this is why I have scored these as an 8 out of 10.  Normally they are £7.50 which is an amazing price considering some of my lipsticks have cost in excess of £30 but don't apply or last as well, but at the moment they are on offer at only £5.25 and you get a free Beauty Pack worth £17.50 when you purchase certain lipsticks! (see banner below).  I am definitely an Avon convert and am keen to try even more products in their ranges.  I have already been blown away by another Avon product that knocks spots of some very high end competitors,  but you'll just have to wait to see which one it is. 😉 xNx